Curve lands on Harmony!
And it's got an even better video than mine to celebrate!
Curve has just launched on Harmony 💙🥳 👉
harmony.curve.fi
👈
youtu.be/FFzfrmvTOHU
United in Harmony 💪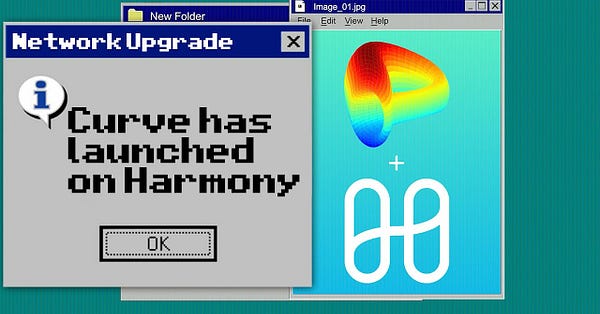 Curve has launched on Harmony
We're excited to announce the launch of Curve on Harmony!#curve #defi
youtu.be
This marks Curve's 7th official protocol, with more previously announced in the works.
Why did Curve opt to launch on the protocol that was ranked as 20th largest by TVL on DeFiLlama? Not privy to any details, but it could be that the $300MM incentives program they announced last month caught Curve's eye.
A $300MM incentive program is worth more than the total volume locked to date, which is mostly split between Sushi and a pixel art NFT game called DeFi Kingdoms.
In fact, the Harmony integration has been brewing since at least August, when a proposal passed overwhelmingly on the Curve forums.
Harmony is pushing the assets angle at the moment, branding itself as "your open platform for assets, collectibles, identity, governance. An open and fast blockchain: 2-second transaction finality, 1000 times lower fees."
The "fees"angle is seldom a good competitive factor — this advantage tends to disappear if the protocol's coin jumps up in value, otherwise it's a sign the chain is mired in irrelevance and sewage. Polygon, for instance, just hiked their gas fee to fight off spam.
The chain does have some nice features though. For one, Harmony itself is EVM compatible, which always makes it easier for Curve to launch rather than needing to rewrite itself from scratch.
The main features of Harmony is their use of a proof-of-stake sharding system, controlled by a distributed randomness generation process.
Their founder is also known to hobnob with royalty, so they may get continued press in your supermarket tabloid's society pages.
Growth hacks like these can matter when you're trying to break through to normies. Be honest, if Ethereum was serious about flippening Bitcoin, Vitalik would spend less time playing with EIPs and more time playing with BTS.
When not cavorting with celebrities, the team has been quite busy. Harmony hosts several events. It recently concluded a TradFi to DeFi hackathon, and it's been liberal with its support of community proposals:
exactly ONE month since we launched

@harmonyprotocol

$300 million ecosystem fund for 10,000 builders all grants are public on our
talk.harmony.one
our open community is starting to be as active as
@MakerDAO
(by far the most active) 🍰 not competing, but growing the pie
It's not just Curve making the move to the protocol. Chainlink is also announced to be deploying soon.
For more information on Harmony, check out some of the great recent interviews floating around:
---
Disclaimers! Author has no positions in or around Harmony.